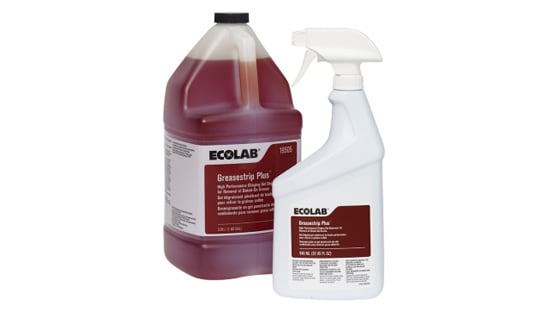 Greasestrip Plus
Greasestrip Plus features a unique gel formula that provides 100% surface contact, unlike regular foam cleaners which create air pockets that prevent the product from touching the surface.
It quickly cuts through caramelized, carbonized and burnt on or baked on soils, in addition to reducing hazardous fumes and flashbacks.
| Product Code | Pack Size |
| --- | --- |
| 6119505 | 4 - 1 gal |
| 6129777 | 6 - 32 fl oz |
Features and Benefits:
Works fast - High performance formula quickly cuts through tough, baked-on soils.
Powerful Gel - Patented, clinging gel formula provides 100 percent surface contact and eliminates messy drips and waste
Sustainable - Non-butyl formula. Meets V.O.C. regulations
Practical - Unique formula contains an inhibitor that protects stainless steel from blackening when product is applied to hot surfaces. Won't damage melamine.
Uses:
Use to clean ovens, grills, stove hoods, vents and broilers