Making Healthy Environments More Sustainable
The Importance of Environmental Health and Safety
Consumers demand clean, healthy environments. We help our customers ensure environmental health and safety in every industry: from hotel guest satisfaction to hospital and long-term care patient safety. With a focus on environmental hygiene and cleaning, we take our solutions beyond performance outcomes to make healthy environments more sustainable. Whether it's providing sanitizing solutions in food production and preparation, disinfectants to help reduce the risk of HAIs in healthcare or purification solutions for water reuse, we help customers deliver exceptional experiences while reducing costs, enhancing employee safety and improving sustainability in their facility care and food service processes.
Improving Environmental Hygiene to Protect Patients, Guests and Workers
Ecolab offers a variety of environmental cleaning solutions and data-driven insights to help customers run clean, safe, efficient and sustainable operations in hospitals, hotels, restaurants, schools and other institutional facilities.
Healthy Environment Innovations
Ecolab employs innovative technologies to help customers achieve their environmental hygiene goals. In 2017, we helped wash more than 40 billion hands, 150 billion plates and 110 million loads of laundry and helped clean more than 800 million hotel rooms and 6 million hospital and long-term care patient rooms.
Health Success Stories
Learn how Ecolab partners with customers to offer environmental cleaning and hygiene programs to help ensure healthy environments to protect guests, patients and employees.
No featured success stories were found.
Health Innovations
Learn more about Ecolab's innovative programs and products that help customers address environmental cleaning and hygiene issues.
No featured program pages were found.
Health Resources
Browse our resources and literature on environmental cleaning and hygiene topics.
Controlling Environmental Pathogens That Make People Sick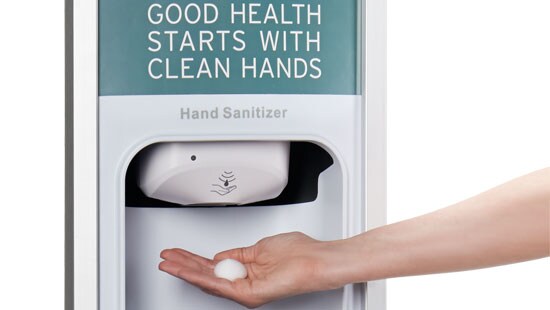 Clinical Literature and Infection Prevention and Control Resources
Health Videos
Watch videos that demonstrate Ecolab's innovative programs that help customers address environmental hygiene issues.
Ecolab Healthcare Programs
Ecolab Hand Hygiene Compliance Monitoring
Health Solutions
Learn how Ecolab's environmental cleaning and hygiene solutions create a clean environment to drive higher compliance rates and healthier, safer environments for customers.
No related solution pages were found.