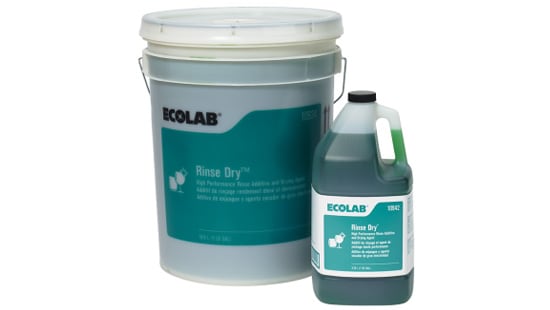 Rinse Dry
| Product Code | Pack Size |
| --- | --- |
| 6110934 | 5 gal |
| 6110942 | 4 - 1 gal |
Features and Benefits:
Your customer's guests expect sparkling, spot-free glasses and flatware

Ecolab rinse additives ensure your customer delivers on this expectation

No need for hand drying or stacking wares while still wet

Rinse additives help water sheet off of the surfaces, preventing water spotting and helping wares dry faster
Delivers Spotless Glassware and Silverware. This highly concentrated surfactant formula allows rinse water to "sheet" off dishware. That means spotless glassware and silverware and no unsightly filming or water spots.
Fast Drying Action Saves Time and Space. Rinse Dry's rapid sheeting action allows dishes to dry faster than evaporation. Customers save time by stacking dishware sooner, save space by moving dishware out of dish room faster and reduce labor costs by eliminating costly hand toweling.
Increases Dishmachine Efficiency. Defoaming agent eliminates troublesome foam, makes water jets more effective at removing food soil.