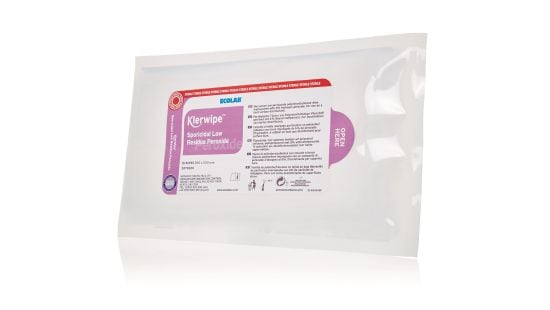 Klerwipe™ Low Residue Peroxide Mop Wipes
Ecolab Klerwipe™ Low Residue Peroxide Mop Wipes are low particulate mop wipes for cleanrooms, impregnated with 6% hydrogen peroxide. Binder free, hydroentangled polyester/cellulose blend wipes. Supplied bagged in a resealable pouch.

Note: This product is not available in North America.
Features and Benefits
Designed to be easily fitted to Klercide™ Mop Wipe Frames.
Quick and convenient method for cleaning large surfaces.
Highly absorbent and remain wet throughout use, ensuring consistent application of peroxide to the entire surface area.
Bagged and sterile in a resealable pouch with the double bag featuring Klertear™, making packs easy to open even while wearing gloves.


Related Klercide™ Residue Removal Wipes for Cleanrooms
No related product pages were found.
Related Cleanroom Solutions
Learn more about how Ecolab's Cleanroom solutions can help your facility produce safe, compliant products that exceed patient standards, measurably improve operational efficiency and help achieve sustainability goals.
No related solution pages were found.