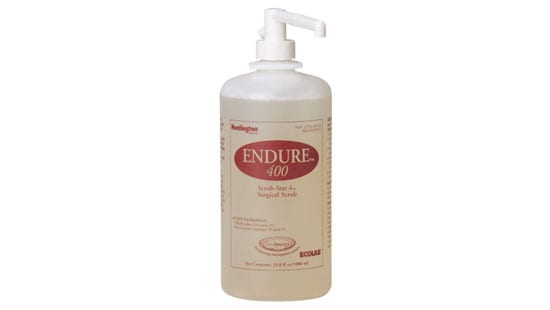 Endure™ 400
Endure 400 Scrub-Stat 4 is an emollient-rich formula which supports surgical hand scrub efficacy while promoting skin health. 4% Chlorhexidine gluconate formula significantly reduces the number of microorganisms on the hands and forearms prior to surgery or patient care. Emollient enriched formula has a pleasant floral fragrance. Available in liquid and foam formulas.
Product Details
4% chlorhexidine gluconate active ingredient provides provides long term, proven antimicrobial kill for patients and staff.
Exceptional antimicrobial persistence provides longer-term residual protection up to 6 hours; helps prevent bacterial growth to help lower nosocomial infections.
Fast acting. Rapidly kills transient and resident microorganisms on the skin.
Contains emollients to help protect against irritation, leaving hands feeling soft, helping to promote hand washing compliance.
| Product Size | Part Number | Dispenser Type |
| --- | --- | --- |
| 12-1000 mL Liquid | 6000176 (Canada Only) | Disposacare |
| 72-4 oz | 6000175 (Canada Only) | No dispenser required |
| 4-1 Gal | 6000174 (Canada Only) | No dispenser required |
| 12-1000 mL Liquid | 6000177 (Canada Only) | Scrubmate |
US Product has been changed to Scrub Stat 4%