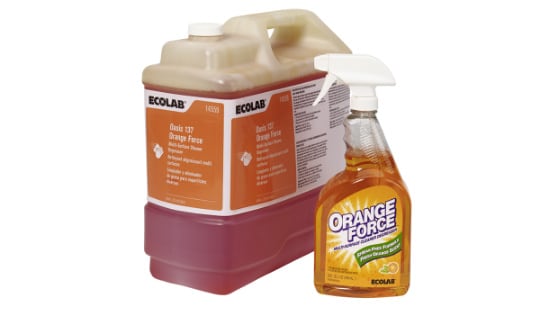 Orange Force™
Orange Force™ is a non-abrasive multi-purpose cleaner for use in food service and housekeeping operations. It provides streak-free results with a pleasant orange fragrance and can be used on a wide variety of surfaces to removes soils without leaving film. Use on all types of painted walls, doors, and bathroom surfaces.
Mild alkaline formula.
| Product Code | Pack Size |
| --- | --- |
| 6114559 | 1 - 2.5 gal |
| 6121038 | 2 - 2 L |
Features and Benefits:
Innovative Chemistry:

Contains a unique blend of surfactants that creates double-binding action. This double bond pulls grease away from the surface with twice the efficiency of ordinary surfactant technology.

Streak Free and Nonabrasive:

Streak-free, multi-surface cleaner with a pleasant orange fragrance.
The nonabrasive formula is designed to remove tough greasy soils, films and smoke from multiple surfaces.
Use On:
Use on walls, floors, painted surfaces, countertops, equipment, chrome, fixtures, tile, sinks, shower doors and tubs.