Leading Food Retailers Join the Ecolab Science Certified™ Program, Committing to a Higher Level of Cleanliness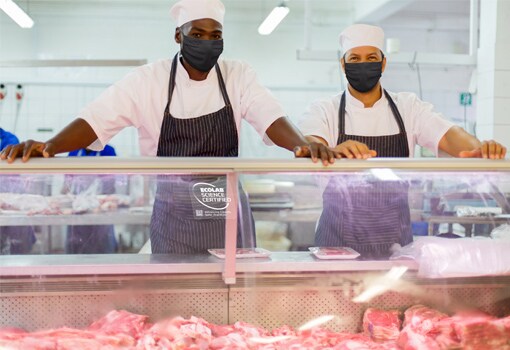 Ingles, Brookshire's, CUB, Coborn's, Bristol Farms and Lazy Acres implement science-based solutions to build customer confidence and address current and future pandemic concerns
ST. PAUL, Minn.--(BUSINESS WIRE)-- Ecolab Inc., the global leader in water, food safety and infection prevention solutions and services, has expanded its Ecolab Science Certified™ program to include six leading food retail partners. Ingles Markets, Brookshire's Food & Pharmacy, CUB Foods, Coborn's, Bristol Farms and Lazy Acres are the latest partners to commit to rigorous cleaning protocols, training and audits that will earn the official Ecolab Science Certified seal, helping give consumers confidence as they look to the future.
These regional partners join other leading nationwide food retail brands, as well as many restaurants and hotels across the country, in advancing cleaner, safer practices through the Ecolab Science Certified program. The program, which combines advanced chemistries with public health and food safety training and periodic auditing, is helping these businesses achieve a higher level of cleanliness to address the new health and safety challenges and consumer expectations driven by the COVID-19 pandemic and other emerging pathogens.
By passing the independent audit performed by Ecolab and demonstrating their commitment to the Ecolab Science Certified program, these food retailers will display the official Ecolab Science Certified seal at more than 475 participating grocery store locations: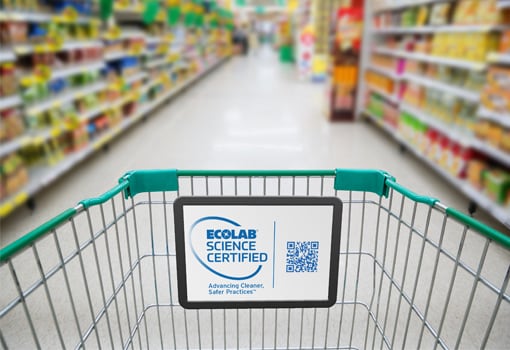 "The safety of our customers and associates has been of paramount importance to Ingles since the outbreak of the pandemic last year," said Ron Freeman, Ingles chief financial officer. "The Ecolab Science Certified program allows us to demonstrate our commitment to rigorous, science-based cleaning protocols, training and audits to our customers and associates. The program is an important part of our overall standards to help provide a safer and cleaner shopping experience and workplace by reducing the risk of exposure to germs, including the COVID-19 virus."
The Ecolab Science Certified program is grounded in Ecolab's decades of experience helping keep hospitals, grocery stores, restaurants, hotels and other businesses clean. It leverages Ecolab's unique combination of science-based solutions and insights from a global team of 1,200 scientists, with audits performed by highly trained Ecolab specialists.
The program also was informed by key insights from proprietary Ecolab consumer research.1 The research showed that 72% of frequent grocery shoppers feel "very safe" or "extremely safe" knowing hospital disinfectants* are being used in stores. The research also found that consumers feel safer knowing cleaning and disinfecting practices are verified by an external, independent auditor with cleaning expertise**. And even after a vaccine is distributed, Ecolab's research shows that 95% of consumers surveyed want to see as much or more cleaning and sanitation practices at the places they eat, stay and shop.2
"Through the Ecolab Science Certified program, we're helping our customers recalibrate to meet higher standards throughout the industry," said Adam Johnson, vice president and general manager of Ecolab's global food retail business. "We look forward to helping these leading food retailers build consumer confidence as they implement our comprehensive program."
In grocery stores, restaurants and hotels, the key elements of the Ecolab Science Certified program provide rigor and support consumer confidence:
Create clean through hospital disinfectants and food-contact sanitizers approved by the U.S. Environmental Protection Agency (EPA) for use against the COVID-19 virus and other emerging pathogens, and elevated hygiene standards and protocols informed by the U.S. Centers for Disease Control and Prevention (CDC) guidelines.
Check clean through detailed public health and food safety training and periodic auditing by highly trained Ecolab specialists focused on public health and food safety to determine whether program elements are being followed.
See and believe clean through front-of-house cleaning and disinfecting procedures and the Ecolab Science Certified seal, a visible sign of commitment that a location is advancing cleaner, safer practices.
For more information and to see the Ecolab Science Certified program in action, visit www.sciencecertified.com.
About Ecolab
A trusted partner at nearly 3 million commercial customer locations, Ecolab (ECL) is the global leader in water, hygiene and infection prevention solutions and services. With annual sales of $13 billion and more than 45,000 associates, Ecolab delivers comprehensive solutions, data-driven insights and personalized service to advance food safety, maintain clean and safe environments, optimize water and energy use, and improve operational efficiencies and sustainability for customers in the food, healthcare, hospitality and industrial markets in more than 170 countries around the world. www.ecolab.com
Follow us on Twitter @ecolab, Facebook at facebook.com/ecolab, LinkedIn at Ecolab or Instagram at Ecolab Inc.
About Ingles Markets
Ingles Markets, Incorporated is a leading grocer with operations in six southeastern states. Headquartered in Asheville, North Carolina, the company operates 197 supermarkets. To learn more about Ingles Markets and our efforts to end hunger and aid in the education of children, visit www.ingles-markets.com.
About Brookshire's Food and Pharmacy
Based in Tyler, Texas, Brookshire Grocery Co. is a regional family-owned grocery business that employs more than 15,000 individuals throughout Texas, Louisiana and Arkansas. The company operates more than 180 stores under the Brookshire's, Super 1 Foods, FRESH by Brookshire's and Spring Market banners.
About CUB Foods
CUB, based in Stillwater, Minn., was established in 1968 as one of the nation's first discount grocery stores. The organization, which is owned by parent company UNFI, operates 79 grocery stores in Minnesota and Illinois, each of which offers a wide selection of fresh products and great values throughout the store to meet consumer's everyday grocery needs. As the hometown grocer for over 50 years, CUB has made it a priority to be a good corporate citizen by helping to create healthy and thriving communities that enhance the quality of life for its customers, employees, and neighbors. For company news and information, follow us on Twitter at @CUBFoods and Facebook at www.facebook.com/CUB, or visit our website at www.CUB.com.
About Coborn's, Inc.
St. Cloud, Minn.-based Coborn's, Inc. is a 100-year-old employee-owned grocery retailer with nearly 9,300 employees and 60 grocery stores across Minnesota, North Dakota, South Dakota and Wisconsin under the Coborn's, Cash Wise Foods, Marketplace Foods and Hornbacher's banners. Coborn's, Inc. also owns liquor and pharmacy locations. To support its 130 various retail business units, Coborn's, Inc. operates its own central bakery, dry cleaning facility and grocery distribution center.
About Bristol Farms
Since 1982, Bristol Farms has been on a mission to bring people together around cooking and sharing delicious food. Offerings are curated to encourage discovery of new flavors and new brands, while also providing traditional grocery essentials in a beautiful environment. The focus on customer service is reflected in their highly trained team members, apprenticeship programs, and internal education support for career advancement. For nearly forty years, Bristol Farms has been recognized for providing a shopping experience unlike any other in Southern California. For more information about Bristol Farms, visit www.bristolfarms.com or follow them on Instagram.
About Lazy Acres Natural Market
Founded in 1991, Lazy Acres believes in a natural approach to optimal health and wellness. Their mission is rooted in the belief that our collective actions can and will contribute to a healthier planet. From organic and seasonal produce and products steeped in tradition, to functional supplements and body care, their passionate team members are here to support you in mind, body and soul. With five Southern California locations, Lazy Acres is dedicated to providing a marketplace for anyone who loves to eat healthy and live well. For more information about Lazy Acres Market, visit www.lazyacres.com or follow them on Instagram.
1Ecolab proprietary research conducted May 2020.
*The term "hospital-grade disinfectants" was used in the research conducted May 2020.
**Versus on-site managers or the company that owns the business.
2Ecolab proprietary research conducted January 2021.
(ECL-P)
View source version on businesswire.com: https://www.businesswire.com/news/home/20210217005145/en/
Mesa Denny
+1 651 250 4724
MediaRelations@ecolab.com
Source: Ecolab Inc.